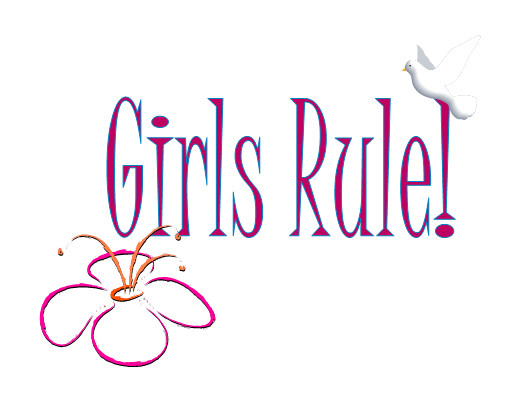 Girls Rule! Programs

Our programs are driven by the ever-changing needs and interests of today's girls.  By providing access to fun, engaging programs and activities, young ladies discover their hidden talents, abilities, confidence and power.

The 2014 Girls Rule! by Design Summer Enrichment Program

Inspiring Girls to Blend...OUT!

As featured on the CBS Evening News with Katie Couric, NBC 5 Morning News and in The Chicago Tribune, Girls Rule! establishes a safe environment for girls to "blend-out" rather than to "blend-in" as they discover the type of women they would like to become. 

What is The Girls Rule! by Design Summer Program?  It's a seven week program that will provide girls with the tools, experiences and knowledge required to begin to envision the type of women they'd like to become and design a plan to get them there!  This fun and engaging "girl only" (ages 4-14) program will not only enhance esteem, increase respect of others and help girls to navigate a variety of social situations; it will also provide an opportunity for girls to chart their destination while walking along that path with girls who are reading from the same map!

At every turn of this unique, fun and engaging seven week experience, girls will laugh, learn, explore career pathways and the world around them while enjoying exclusive girl-centric Girls Rule! activities and workshops such as:

The Girls Rule! Etiquette Imperative:  An organized opportunity for discussion of the rules of etiquette in an age appropriate fun and engaging manner. Access to these esteem building, critical life skills will help girls to successfully navigate social situations, enhance their communication skills and serve them well as they transition in to adulthood.

The Purse-o-nality Program:  Helps young ladies to connect the dots between education, quality of life and future earning potential while honing research, mathematic, presentation and social economic skills.

Girls Rule!:  Our organization's core foundational program through which young ladies gain access to a variety of dynamic esteem building experiences and insights.  This "girl driven" program also promotes participation in physical activities that will impact the health and well-being of girls.  Girls Rule! provides access to conflict resolution tools, engaging and fun facilitator led activities, trips and projects. The program enables young ladies to hone their leadership, math, science, presentation and communication skills while working in peer led teams.

Service Projects:  Working together, girls learn to solve problems and make decisions and successfully contribute to their community. They connect local concerns with global issues and gain an awareness of others. All this will serve them now and years later as they transition out of school and into the adult world!

Plus...

Girls will also explore their interests and unearth their hidden talents and abilities by participating and a variety of fun workshops!  Each workshop will meet for 60 minutes on its designated day throughout the seven week Girls Rule! by Design Program.  Girls may sign up for a maximum of three workshops. 

Workshops include: 

Dance Yourself Fit:  Girls will learn about the health benefits of dance while exploring a variety of dance styles.

Musicology:  Girls will learn music theory basics and receive voice training while exploring music from many lands, gospel and inspirational music.

SewnPerfect:  Girls will explore their creative side!  Young ladies will learn to sew by hand and by machine, embroidery/embellishment techniques and how to make a garment pattern along with other fun projects.

Girls Rule TV!:  Girls will explore film and video production.  Take a look at a past production! 

And finally...

We will culminate our summer experience together with a celebratory elegant dining experience at the luxurious

AMERICAN GIRL PLACE!

Registration Information:

EARLY BIRD REGISTRATION ENDS:  June 4, 2011. You may reserve a space in The Girls Rule! by Design Summer Program by registering below.  Registered program participants well enjoy a Girls Rule! membership and all of its benefits.

The full-time program registration is only $99-145 per week full-day (only $29 a day) or $66-93 per week part-time, with reduced registration costs for siblings.  Tuition assistance/sponsorships available - Everyone should apply/inquire.  Please email us for more information or view schedule(below).

Space is limited to ensure that each girl receives special attention and one on one engagement time with her facilitator/team leader.

Upon receipt of your registration fee, a program registration packet will be forwarded to you electronically.

Please complete the registration packet and fax, email or mail it back to us no later than Friday, June 10, 2011along with the first installment of your tuition payment.  The final tuition installment will be due by Noon, Friday,  July 1, 2011 unless you have established a payment arrangement.

Note: Please do not forget to designate the three customized workshops your child will participate in for the duration of the program.

The girl to program facilitator/team leader ratio is 7-1.  

Participants will enjoy a healthy breakfast and afternoon snack. 

Before-care is available from 8:30am - 9am (Free).  After-care is available from 3PM to 5PM ($50/wk)

FAQ

I want to register my daughter, but need more time to pay.  Can I make a payment arrangement?



Answer:
  Yes.  Please email us at info@girlz-rule.org to make a special arrangement. 
Will my daughter need to wear special clothing for the dance classes?



Answer: 
The dance instructor will advise if specific attire is required, however yoga pants and a
                             comfortable top should suffice.

Can my daughter wear whatever she wants each day?



Answer:
  Girls Rule! has a special uniform requirement which includes a tee shirt.  They may be worn
                             daily, but are required for all Girls Rule! outings.

What trips are scheduled this year?



Answer:
We will visit local businesses to learn about entrepreneurship, visit the Mercantile Exchange,
                             take an architectural tour, play lazer tag and a host of other trips.  The full schedule will be

                             provided during the first week of the Girls Rule! by Design program.

Have a question?  Please email or phone us at 312-479-0789!
Girls Rule! programs featured in:

V103 FM's

"Views from the Heart" with

Hermene Hartman, Editor

N'Digo Magazine

Dawn Turner-Trice's
Chicago Tribune
column,
"Girls Rule! Helps Girls To Help Themselves"
Take a sneak peek
.
Evening News with Katie Couric Segment

"One of the reasons I like Girls Rule! is because it's so much fun!  Another reason is because it helped me to become really good friends with other girls instead of putting each other down or dealing with a bunch of drama or bullying. 

The most important thing I learned was that people can't bring me down unless I give them permission to."   

                                                              ~ Brianna, age 12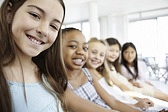 Girls will explore their interests and unearth their hidden talents and abilities in our customized workshops!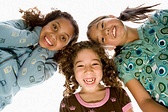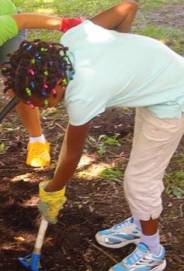 Our service projects teach girls to work together and to make joint decisions while making a positive impact in the world around them.



'Children are not people of tomorrow, they're people of today.'

~ Janusz Korczak

"It is easer to build strong children, than to repair broken men."

~ Frederick Douglass