The Etiquette Imperative Tip of the Day:

It is inappropriate for undergarments to visible while in public. That includes bra straps...even as we enjoy summer temperature and fashions.

Evening News with Katie Couric Segment

Dawn Turner-Trice's
Chicago Tribune
column,
"Girls Rule! Helps Girls To Help Themselves"
>>read<< or take a sneak peek
.
Dining Etiquette Matters:

Uninterrupted time sharing a meal with adults helps children to observe and learn table manners.

When was the last time you sat around the dinner table at home and shared a cooked meal?

In the news:

The Etiquette Imperative featured on Fox News   

Etiquette Certification

Today's Most Exciting, Comprehensive & Flexible Training Program

Inspiring Excellence, Confidence and Civility Through Etiquette Mastery

                                                       Additional Questions?
Email
us or phone us at 312-479-0789.                                                                                             

The Etiquette Imperative

A Civility and Etiquette Institute

Become A Certified Children's Etiquette Consultant

Home Study Materials Available Now.  Work at your own pace.

Registration Deadline:  Ongoing for work at your own pace option w/access to recorded classes.

This certification program is ideal for educators, program directors, community/faith based organizations and individuals who desire to either incorporate etiquette mastery into their existing programs or desire to start their own etiquette businesses.

In our six day training, you will learn everything needed to launch your own etiquette business or to incorporate etiquette lessons into your school or youth programs. This program is limited to 12 etiquette trainees and will focus on etiquette programs designed to impact the lives of youth residing in urban communities.

Your program will include

Five webinar sessions.  You may access and revisit at your convenience.

An etiquette training manual complete with proven teaching tools

Fun, engaging and educational student hand-outs for easy duplication

Detailed lesson plans to get you started 

Course materials including Business Operations, Marketing and Strategic Planning, Self-Presentation Skills, Dining Skills, Conversation Skills, Telephone Skills, Chivalry, Posture, Grooming & Attire, Cotillion and many other topics that help nurture a child's social development

Rights to use The Etiquette Imperative Institute® name on your materials

Certified Etiquette Professional Referral opportunities

Access to affiliate marketing opportunities designed to promote you and your classes

Certification exam modules will be completed online. You may complete your reading and take your tests at your own pace.

Based on this program, a child can return to you for continued etiquette training up to six times over 12 years.

Registration fees must be remitted prior to session start date.

States represented:  Illinois, Indiana, Iowa, Idaho, Tennessee, South Carolina,

                                    North Carolina, California, New York, Florida, Alabama

Countries: Canada, France, Nigeria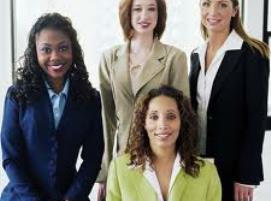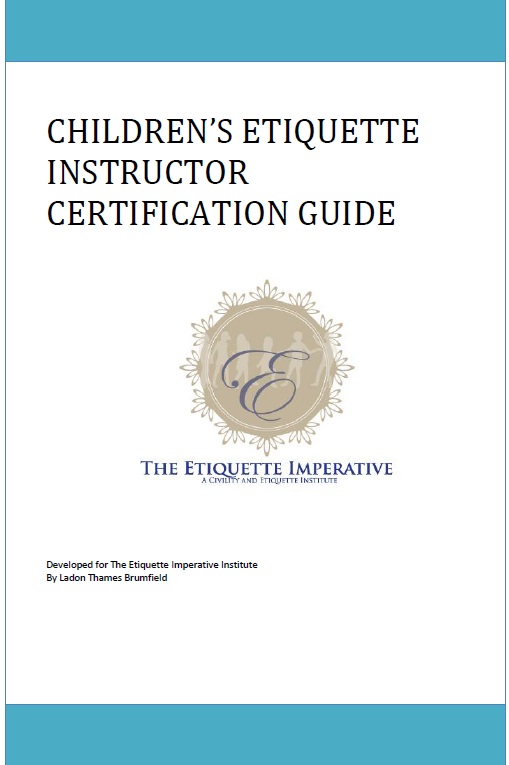 I really appreciated the business development modules.  The exercises and activities helped me obtain contracts with two schools and a non-profit organization the same week I became certified. 

                               Candyce Heim, MA

I became unemployed about 6 months ago and became certified to supplement my income.

Between the referrals I receive from The Etiquette Imperative Institute and the etiquette classes I provide for our local Park District, I'm doing this full time. 

My goal is to start a school within the next 12 months.  Thanks for giving me the tools to create a new career!

                                    Cheryl Major, TX


Clearance Blow-out! Shop and save up to 68% off retail!